Haleakala National Park Offers A Lot More Than A Beautiful Sight At First Light
The volcanic landscape of Haleakala holds a lot more surprises than any visitor would believe. The area is filled with life, unique sounds and inspiring features in every life-zone… and there are a lot of them. A journey around this magnificent mountain or up to it's peak will bring you through multiple climate or life zones where unique flora and fauna exists, sometimes only here on Maui. Connect to the forces that developed this landscape, the ever-present wind and rain. The tradewinds bring life giving rain and moisture in ways that forced mainland plant & animal species to evolve and adapt becoming their own unique species.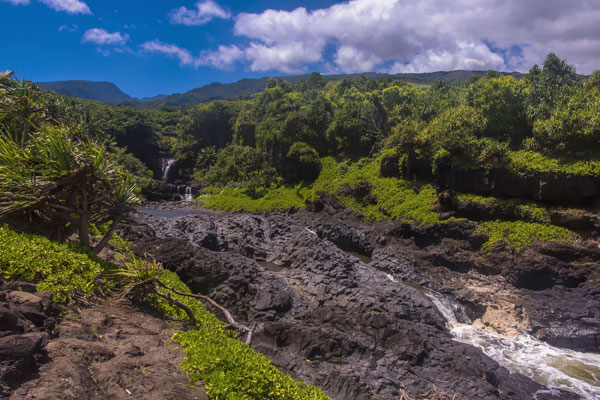 Learn more about Haleakala National Park (House Of The Sun) or let an award winning tour company guide you through the highlights, history, culture and stories of the people, plants and animals that make up the park's rich ecosystem.
Summit District Of Haleakala National Park
This area of the park includes a number of interesting features and points that make for good stops, especially for those that love geology and volcanoes. As a visitor don't forget to take detailed photos as much of the plants and animals are quite rare. Be sure to always stay on the paths and don't disturb or feed the nene.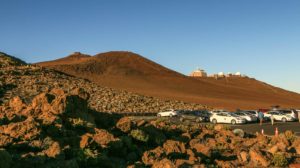 This is the highest point on Mauna Haleakala, and includes an enclosed observatory from where you can see the Big Island. Though the view is not as dramatic as those on the valley cliffs, there are sweeping views from the peak of Puʻu ʻUlaʻula.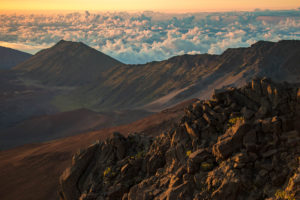 The stunning overlook at Pa Ka'oao (White Hill) provides a 270 degree view of the valley below and the tallest peaks of the Big Island of Hawaii in the distance. Though slightly lower in elevation than Red Hill, the short hike to the top of White Hill provides more dramatic views into the valley and its cinder cone craters.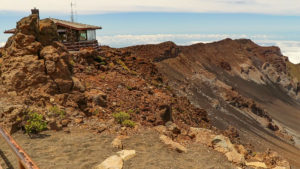 The best place to watch the sunrise with easy access to 'Keoneheʻeheʻe Trail, White Hill, and provides incredible views of the cinder cone filled valley, from the high cliffs. It all makes the area around the summit building a popular location to take in the event.
Haleakala Summit Temperature
&

Precipitation Averages
The weather at the top tends to be quite variable and is hard to predict with any certainty. For example, it could be sunny and bright at the coast, but overcast and rainy at 7000′, blocking the view of the clear skies above 9000′. The webcam on the summit building shows just how quickly the weather can change throughout day. Before heading up the mountain, be prepared for rain, high winds, and cool temperatures.
Jan

Avg High (F): 61
Avg Low (F): 43

Avg Precipitation: 5.98


July

Avg High (F): 66
Avg Low (F): 49

Avg Precipitation: 2.60

Feb

Avg High (F): 60
Avg Low (F): 42

Avg Precipitation: 5.47


August

Avg High (F): 66
Avg Low (F): 49

Avg Precipitation: 2.09

March

Avg High (F): 60
Avg Low (F): 43

Avg Precipitation: 7.64

Sept

Avg High (F): 65
Avg Low (F): 47

Avg Precipitation: 2.36

April

Avg High (F): 60
Avg Low (F): 45

Avg Precipitation: 4.17

Oct

Avg High (F): 64
Avg Low (F): 47

Avg Precipitation: 3.11

May

Avg High (F): 63
Avg Low (F): 45

Avg Precipitation: 2.17


Nov

Avg High (F): 63
Avg Low (F): 47

Avg Precipitation: 5.28
June

Avg High (F): 65
Avg Low (F): 47

Avg Precipitation: 1.38


Dec

Avg High (F): 61
Avg Low (F): 44

Avg Precipitation: 7.44
Parking Within The National Park
The Park has plenty of parking and multiple parking areas. However, parking can be a challenge during sunrise and sunset, particularly at the Summit and Puʻu ʻUlaʻula (Red Hill) parking lots between the hours of 3am-7am. During sunset, the Puʻu ʻUlaʻula (Red Hill) parking lot is overflowing with vehicles, though on a much smaller scale than during sunrise. All parking lots are accessible to everyone, including those with disabilities and who require wheelchair assistance.
Here is a hiking map for your reference.
Backpacking to one of the wilderness campgrounds is a great way to experience Haleakala. Paliku and Holua areas have basic cabins and camping sites. Both include water and out-houses. Cabins are in high demand and require reservations at least 6 months in advance.
Note that biking tours do not occur within Haleakala National Park. Per National Park rules, biking tours begin just outside the park at around the 6900' level, well below the summit district. Biking tours occur throughout the day and, due to their dangerous nature, should only be attempted by those who are comfortable biking.
Sunrise
&

Sunset Time Differences From Official Times
Everyone uses the Bishop Museum's time table for celestial events like sunrise and sunset. They are based in Honolulu.
The difference matters when you are trying to catch an event that won't wait for you. Remember that sunrise at Haleakala Summit Visitor Center will happen 14 minutes sooner than what is stated and sunset will occur 1 earlier.
Haleakalā: -14 min. sunrise/ -1 min. sunset.*
Hāna: -8 min. sunrise/ -7 min. sunset.
Kula/Keokea: -11 min. sunrise/ -2 min. sunset.*
Kahului: -7 min. sunrise/ -6 min. sunset.
Lahaina: -6 min. sunrise/ -5 min. sunset.
Cabin, Camping
&

Sunrise Reservations
Reservations are required for the 2 most popular attractions in Haleakala National Park on Maui – sunrise and wilderness cabins.
Wilderness Cabin Reservations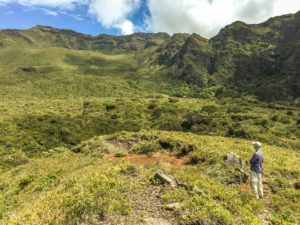 The park maintains 3 historic wilderness cabins on the valley floor: Holua, Kapalaoa, and Paliku. Each of the cabins are only accessible by trail and require a hike across rugged terrain among the many cinder cones.
Holua = 3.7 miles(5.9km)
Kapalaoa = 5.5 miles (8.9km)
Paliku = 9.3 miles (15km)
The cabins are booked months in advance and are very basic with a water pump, firewood, and an outhouse. Reservations can be made up to 180 days in advance using Reserve America's website at www.recreation.gov. If you are willing to provide a little labor in return, you can join one of the service trips sponsored by Friends of Haleakala National Park.
In addition to cabins, there also has a number of camping options. Camping spots at Kipahulu and Hosmer Grove are based on a first come-first-served basis with a maximum 3 night limit. You can also obtain wilderness camping permits for Holua and Paliku areas of the park at the park headquarters.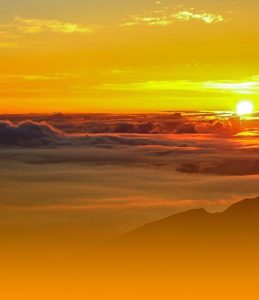 To help control crowd sizes and ensure visitor safety during sunrise, the National Park instituted a sunrise reservation system in early 2017. Reservations are required to enter the Summit District between the hours of 3-7am. You can reserve your sunrise parking spot at Recreation.gov for only $1.50. Visitors can reserve a space up to 60 days in advance. On average, reservations fill up a few weeks in advance. If you're planning to travel to the summit during your Maui vacation, be sure to make your sunrise reservation at least 2-3 weeks before your trip.
Though you can explore the summit on your own, a guided tour of Haleakala is the best option for most travelers. Choosing a tour for sunrise lets you relax and enjoy the incredible experience of Haleakala National Park. Guided tours include hotel pickups, expert narration and, for sunrise tours, a full breakfast.